Children's Parties, Hen Parties and Team Building Workshops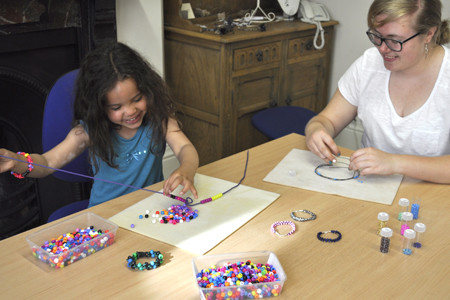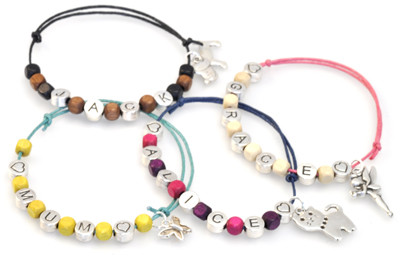 We have a large workshop room directly above the shop with all the facilities to host parties for many occasions. We can also hold parties at a venue of your choice with a small additional cost to cover travel time.
Our children's parties are always popular and can be tailored to suit your child's age and ability.
Younger children tend to opt for elasticated bracelets and necklaces using a selection of glass, wood or plastic beads or beaded animal key rings and bag charms. Older Children can make earrings with matching bracelets in our jewellery making parties.
Parties usually last for 2 hours, and can be held at a time to suit you subject to availability.
We provide all materials and refreshments, you are welcome to bring food or arrange for a takeaway to be delivered. If you'd like to you can decorate the room before the party.
Although we provide fair-trade drinks and snacks, you are welcome to bring your own cake, snacks and refreshments.
At the end of the party each child will leave with an organza bag, all the jewellery that they have made and a voucher entitling them to 10% discount in the shop.
£80 for up to 8 children, £8 per additional child.
For more information or to book please contact us on 0115 9588 899 or email info@mailorder-beads.co.uk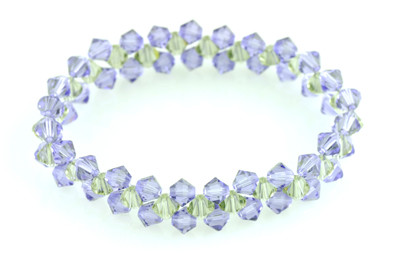 Private Workshops, Hen Parties and Celebrations
We do parties for all ages and occasions. Either pick a workshop from our existing timetable or we can adapt or tailor a party to you needs. For basic parties the cost is £80 for up to 8 people (based on a 2 hour activity), with an £8 charge per additional person (up 10 total). Prices will vary depending on what is taught, time and material costs. For more information or to book please contact us on 0115 95888 99 or email info@mailorder-beads.co.uk
Prices will vary depending on what is taught, time and material costs.
For more information or to book please contact us on 0115 9588 899 or email info@mailorder-beads.co.uk