Jewellery Repair, Quick Fix and Bespoke Jewellery Services in Nottingham
Do you have old broken necklaces, brooches with missing stones or pierced earrings that you can no longer wear? If so get in touch and we'll give you a quote for fixing it. We have several levels of repair (which we call restringing) and quick fix services in our Nottingham retail shop. We also create bespoke jewellery from scratch.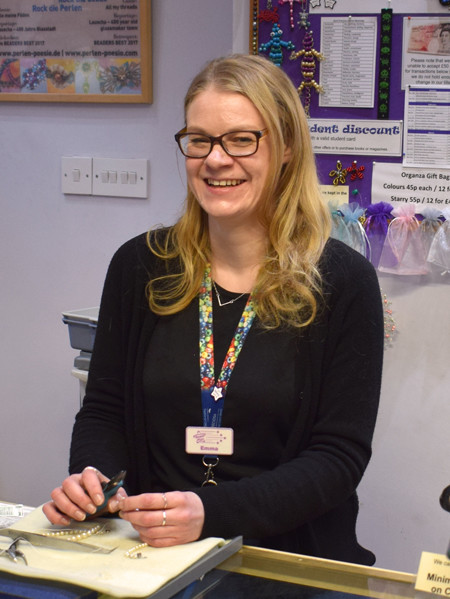 Our Services
Basic Fixes while you wait from £2
Plus the cost of any materials needed, we have a huge variety of findings, beads and pendants you can choose from including plated or sterling silver items.
What kind of thing is classed as a basic fix?
Replacing a broken clasp on a bracelet or necklace.
Exchanging fiddly clasps for a magnetic clasp.
Converting earrings for pierced ears to clip-on.
Swapping plated ear wires for sterling silver ones.
Any small task that would just take us a couple of minutes.
Small Makes from £3
Making a simple pair of earrings (beads threaded on headpins and wrapped loops being created or pendants added to fishhooks with jump rings)
Helping finish a pre-strung bracelet (with knots or a crimp tube).
Basic Re-strings and Mending from £8.50
Re-threading broken bracelets and Necklaces
Sourcing and replacing missing stones for any kind of jewellery (brooches, necklaces, bracelets, pendants, earrings, dresses…)
Gluing and mending broken jewellery
Re-stringing knotted necklaces from £16
This covers traditional pearl necklaces as well as any knotted costume jewellery, knotting in between each bead is traditionally done so that if the jewellery breaks only one bead will be lost; however it is quite time consuming so this style of jewellery is more expensive to mend.
Restringing and fixing via mail order
We are very happy to repair jewellery via mail order. We do insist that it is sent back to you via Royal Mail guaranteed next working day (Special Delivery) service which is £8.95. This is to ensure the item is returned safely and securely to you as other services won't insure jewellery.
Most items we fix and restring have sentimental value, which no amount of compensation from the royal mail would cover in the unlikely event of an item being lost (that said to date the Royal Mail has never lost an item sent by us using their special delivery service).
You would be responsible for getting the item to us and we cannot be held responsible for items lost by the Royal Mail.
Custom Jewellery from £3 plus materials
We love making jewellery! We all have different areas of expertise from silver-smithing to beadweaving so we can make the perfect jewellery for you. We have made a lot of jewellery in the past 20 years and all of our customers who trusted us to create jewellery for them have been very satisfied with the finished piece. We are happy to discuss anything you have in mind and give you a no-obligation quote. You can call us on 0115 9588899 or email us at info@mailorder-beads.co.uk