Christmas posting dates 2023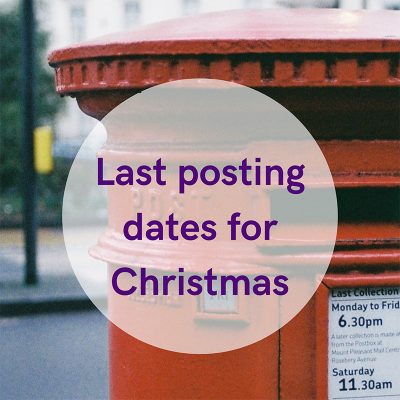 To help ensure your orders reach you before Christmas please bear the Royal mail last posting days in mind and if possible leave extra time, although the Royal Mail aim to delivery by the dates listed below, they're not guaranteed (except special delivery), see bottom of the page for delivery terms and conditions. 
Please bear in mind that the Royal Mail will be busier at this time of year so please take this into account when ordering. With the higher volume of mail there are bound to be delays so please give you orders a couple of extra days to be delivered.
Unfortunately, we are all at the mercy of the Royal Mail currently (though we're keeping our fingers crosses for speedy deliveries for everyone). 
UK recommended last posting dates for Christmas 2023 with Royal Mail
| | |
| --- | --- |
| Monday 18 December | 2nd Class / Royal Mail 48® |
| Tuesday 19 December | 1st Class / Royal Mail 24® |
| Thursday 21 December | Special Delivery Guaranteed® |
APC (courier deliveries) 
Thursday 21 December
International Standard and International Tracked and Signature Services – Last posting dates

Date*

Destinations

Thursday 1st December

Australia and New Zealand

Friday 2nd December

China (People's Republic)

Monday 5th December

All remaining Caribbean destinations
Our next set of last posting dates for the Christmas period are as follows:
International Standard and International Tracked and Signature Services – Last posting dates

Date*

Destinations

Tuesday 5 December 

Africa, Central and South America, Asia, Australia, Caribbean, China (People's Republic),
Far and Middle East, New Zealand

Wednesday 6 December 

Cyprus and Malta

Thursday 7 December

 Austria, Belgium, Denmark, Eastern Europe (except Czech Republic and Poland), France,
Germany, Greece, Iceland, Ireland, Luxembourg, Netherlands, Norway, Portugal, Slovakia,
Spain, Switzerland, Turkey

Friday 8 December 
Canada, Czech Republic, Finland, Italy, Poland, Sweden, USA
 
 
 
 
To see all Royal Mail last posting dates please visit our Service Update page.
*Information taken directly from the Royal Mail Last Posting Dates Christmas 2023
Our website allows you to shop and view the shipping cost before you enter any of your details. Allowing you to see how much your total quickly and easily.
Our Postage and Packing Rates
Our postage and packing rates work in line with the Royal mail's letter, large letter and packet rate system. After a certain cost or weight we swap over to using UK mainland couriers APC for next day deliveries, on Friday's APC still collect but do not deliver until the following Monday. All next day deliveries usually need a signature.
We offer free shipping on orders over £30.00 and we send orders over £100 on a tracked service. This free shipping offer is for UK mailand addresses only.
Terms and Conditions regards,
Postage
5. We will endeavor to dispatch your goods on the same day that we receive your order, when placed before 1pm Monday to Friday. If there is going to be a delay we will contact you by either phone or email.
i) Next Working Day delivery can only be completed and sent if we receive your order before 1pm. Please realise that even if you send the order before 1pm we will not necessarily get it before 1pm due to technical delays so feel free to call us to make sure we've received it!
ii) Orders taken/received Friday after 1pm and before Monday at 1pm with the Royal Mail Next Day Delivery option should be delivered the following Tuesday.
Please note if your order is lost or delayed in the post we will only be able to resend it free of charge after 10 working days from the date it was dispatched. 1st class post is expected to be delivered between 1-2 days after posting, 2nd class post 2-3 days after posting.
The Royal Mail quote 20 days for overseas orders, within Europe. 25 days for the rest of the world. This is because the Royal Mail do not class an item as lost until 10 working days have passed (Weekends and UK Bank Holidays are not counted as working days).
If we charge you for resending the order and after the 10 working days your first order has not been delivered, then we will refund your first original order.
If your first order is delivered after 10 working days and a second (replacement) order has also been delivered, then we can supply a freepost address to return the duplicate order to us if you chose not to keep it. Unfortunately, we are unable to resend orders unless they have been paid for a second time.