Christmas posting dates 2020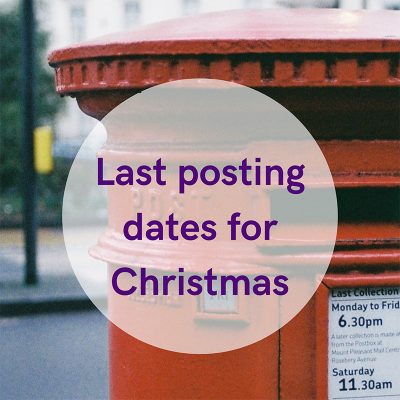 To help ensure your orders reach you before Christmas please bear the Royal mail last posting days in mind and if possible leave a little longer, although the Royal Mail aim to delivery by the dates listed below, they're not guaranteed (except special delivery), see bottom of the page for delivery terms and conditions. 
UK posting days
Friday 18 December – 2nd Class
Monday 21 December – 1st Class
Tuesday 22 December – APC courier
Wednesday 23 December – Special Delivery Guaranteed
International Economy (Standard)
Monday 5 October – All non-European destinations (except South Africa, Canada, Middle and Far East, USA)
Monday 12 October – Middle and Far East, Hong Kong, Singapore, South Africa
Monday 2 November – Canada, Cyprus, Eastern Europe, Greece, Iceland, Malta, Turkey, USA
Monday 16 November – Western Europe
Our Postage and Packing Rates
Our website allows you to shop and view the shipping cost before you enter any of your details. In short, you do not have to subscribe, set up an account or sign in to see how much it will cost to send your order!
Our postage and packing rates work in line with the Royal mail's letter, large letter and packet rate system. After a certain cost or weight we swap over to using UK mainland couriers APC for next day deliveries, on Friday's APC still collect but do not deliver until the following Monday. All next day deliveries usually need a signature.
A lot of these prices will not come into effect with 99% of UK orders due to the free shipping we offer on orders over £30.00 and free Next Day deliveries for orders over £100!
Terms and Conditions regards,
Postage
5. We will endeavour to dispatch your goods on the same day that we receive your order. If there is going to be a delay we will contact you by either phone or email.
i) We use APC couriers for next day delivery except for Saturdays when we can use Royal Mail special delivery. Depending on the weight and cost of the order where we may wait until the following Monday to send it via a courier service.
ii) Next Working Day delivery can only be completed and sent if we receive your order before 1pm. Please realise that even if you send the order before 1pm we will not necessarily get it before 1pm, we cannot accept any responsibility for mail servers and their operation!
iii) Orders taken/received between Saturday, after 9am, and Monday at 1pm with the Next Day Delivery option should be delivered the following Tuesday.
Please allow up to 28 days for delivery, except when you select Next Working Day. This is to cover any losses made by the Royal Mail. We can only dispatch missing orders after 15 working days, when we are able to make a claim against the Royal Mail.