We are a friendly bead and craft shop in the centre of Nottingham since January 2000. To learn more about the history of the bead shop over on our blog.

As of July 2021 we now have a cafe within our ground floor shop with outside seating as well as a small seating area at the back of the shop, read more about this here.

We love teaching workshops, fixing jewellery and sharing our knowledge of beading and jewellery making with you.

Meet the bead shop team and learn more about our jewellery making expertise and interests below.

We feel strongly about the ethics and environmental credentials of the products we stock, read on for our ethical policy.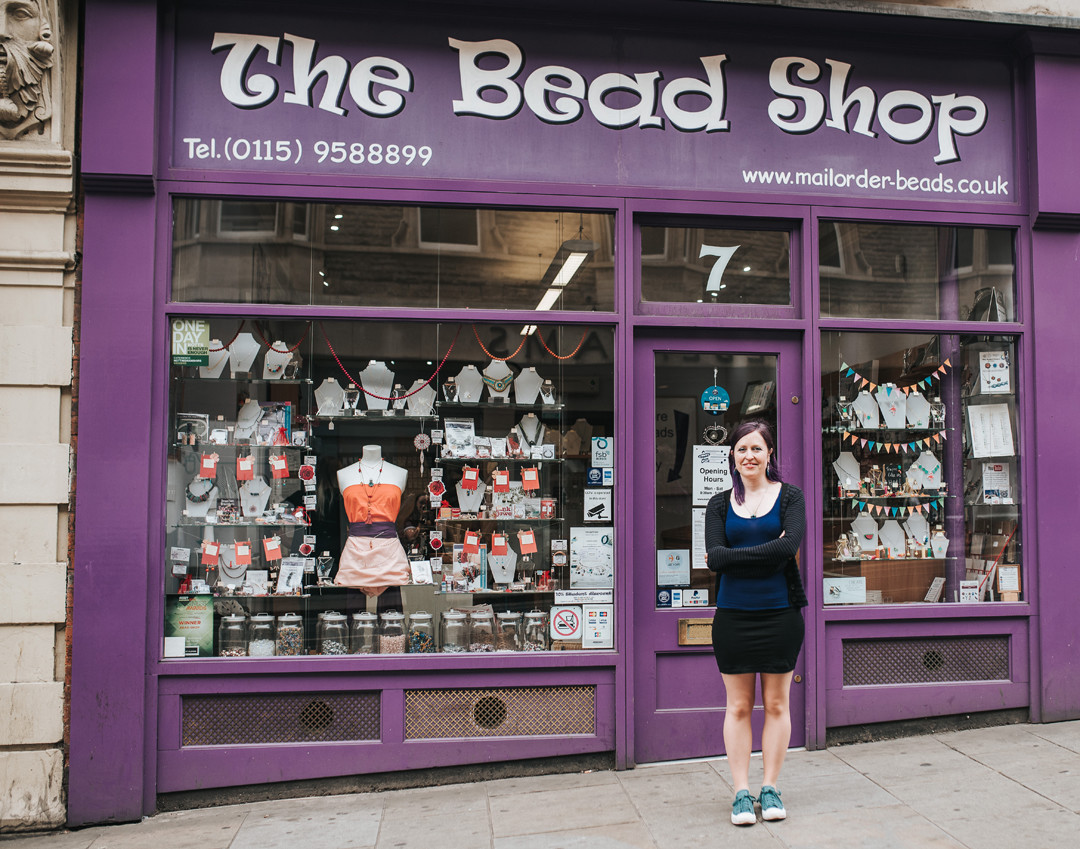 Hana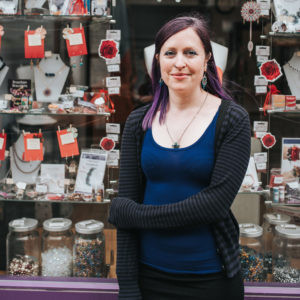 Hana started the Bead Shop when she was 18 years old and has loved beads for as long as she can remember!
After spending a year studying Silversmithing at Loughborough University, Hana is a qualified Art Clay tutor and has spent the last 11 years making glass beads and fused glass jewellery. She has co-authored two beading books with Robin and teaches several glass workshops here. You'll often find her in the shop or wholesale department re-ordering stock or chatting to customers about what products they'd like us to order in.
On top of all that Hana is a business mentor and coaches others who wish to start up their own business. She is passionate about independent retail and collaborating with other indie businesses.
Robin started the Bead Shop with Hana back in 1999 and is the in house technical genius and maintenance guy.

Robin prefers to work with wire and has taught in the beginners beading workshops and the more advanced techniques of brick stitch, peyote and herringbone stitch. Robin hosts the majority of the children's beading parties we run here at the shop but specializes in creating findings with wire either by hand or with the Wigjig family of wire jigs.
He has been selling beads for the last 25 years and knows much more than he likes to let on. You'll see Robin at all the bead fairs we do as he's the only person who can move the heavy boxes of beads and upright display stands.
He makes amazing bread though sadly not often enough.
Robin has co-authored two books with Hana, one on Tiara making and the other on general beading.
Robin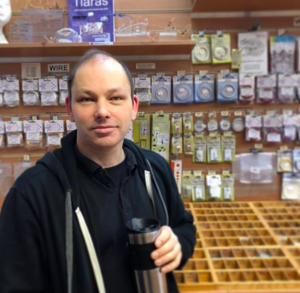 Steph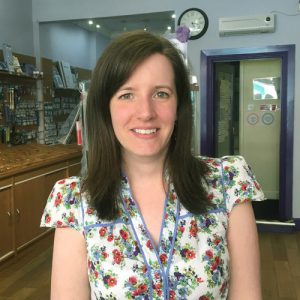 Steph is in charge when Hana or Robin aren't around and designs the majority of our kits and workshops. She is very creative and has experimented with most craft techniques. She specialises in beadweaving (though is talented at virtually all jewellery making techniques) and is often found playing with new bead shapes to create interesting patterns.
Outside of beading Steph is a big knitter and tea drinker! She has a degree in Fine Art from Nottingham Trent University. Steph also has the official qualification from Art Clay to teach workshops with their products and is our main workshop tutor.
Emma is our re-stringing and fixing expert and completes the majority of our jewellery re-strings and repairs. She teaches many of our workshops specialising in basic jewellery making and silversmithing as well as resin and macrame.
Emma also has a Fine Art degree and runs Make & Fable – a craft blog and jewellery brand. She specialises in simple geometric silver jewellery (the design and making of is aided by much tea and her 'helpful' cat Aston!). Her pieces are sold in numerous shops and galleries as well as on Etsy and at craft fairs.
Emma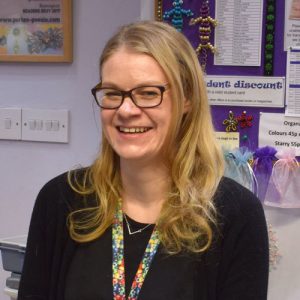 Eloise is part of the mail order team and you will hear her answer the phone and help you with your enquiries and to take your orders.
I can't stop looking at all the Swarovski sparkles! 😍 My crafty wish list is getting longer everyday too; lots of sculpey clay and I've got my eye on the shrink plastic.
During lockdown I've been obsessed with making polymer clay miniatures and jewellery; mini flumps, twister ice lollies and more!
I started an Etsy shop last year where I now sell some of these tiny treats as well as cute illustrations.
You can see these and more of my creative antics on my Instagram @asifbymagiccreations
Alexandra, Alex for short, is our Silversmithing expert and Social Media Butterfly. (Photographed here with one of Alex's all time favourite customers, Alfie).
Alex has a degree in Jewellery and Metalwork and uses her knowledge and skills to help customers both in the shop and in tutoring 1-2-1 sessions. She helped to design our custom made double silversmithing bench in our redeveloped workshop room, from where she teaches several of our silversmithing workshops.
You will also find that Alex also makes and sells her own beautiful sterling silver jewellery as Defina Designs.
Alex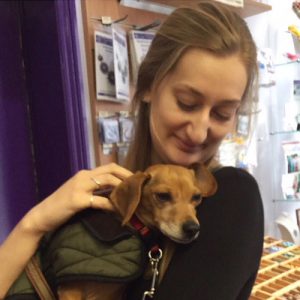 Steffie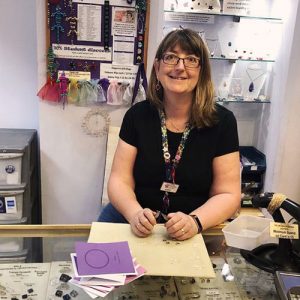 Steffie first got involved in making jewellery (before working here) after attending one of our workshops. A YouTube video, a kit and another workshop later and she was hooked.
Part of Steffies duties is in the shop helping customers make or repair their jewellery. When Steffie isn't busy with customers she puts products on to the website, makes jewellery for window displays and tests all the new kits that Steph creates.
Away from work Steffie is a keen knitter and also cross stitches and sews, she is always making something!
Jess came to us several years ago as a work experience student from school, we were so impressed by her enthusiasm and work ethic we offered her a job! Since then she has learnt how to make a wide range of jewellery and use most of the 5000 products we stock!
We are delighted that Jess has chosen Nottingham Trent University to study Business Studies. As that means she is still here on Saturdays!
She also helps out at several bead fairs so you may recognise her from working at the Big Bead Show at Sanddown Park in April and October each year.
Jess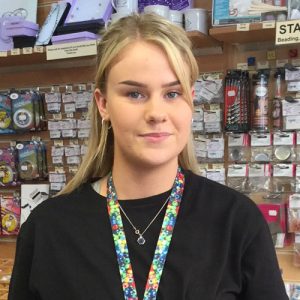 Fair Trade and Ethical policy
Both in our workshops and during our normal working day we use only fairtrade teas, coffee & hot chocolate. Workshop customers also get to enjoy fairtrade biscuits.
All of us here at The Bead Shop feel pretty strongly about looking after our planet for the prosperity of future generations. We use recycled paper for our printing including the invoices we send with our mail orders. We always use the second side of any A4 paper we have here. This includes suppliers delivery notes, mail circulars and any mistakes that we make.
If you are a mail order customer then you may have already received an order in a recycled box. These boxes will have previously held stock or re-used packaging that was previously sent to us. Everything that can be re-used is and if not recycled. Even the empty milk containers are sometimes cut up and used as scoops in the stockroom!
It is our mission to avoid plastic waste as much as possible. To achieve this we re-use all packaging that is sent to us and also work with suppliers to reduce plastic packaging. Our shop customers are encouraged to return plastic bead tubes and kit packaging for us to re-use. We continue to work on sourcing card and paper packaging as a replacement for our plastic packaging.
Working with suppliers along the supply chain we do everything possible to ensure that all employees work in good conditions & receive a fair wage. We specialise in sourcing high quality products from manufacturers that care about their employees and the environment. Hana & Robin have visited the factory in the Czech Republic that manufactures our glass beads. Our wooden beads are sourced from sustainable wood in Germany, our findings are almost all plated here in the UK.