We have invited the wonderful enamel artist, Katie Sanderson to write a blog post about her work and inspirations for us! She currently has a selection of work for sale in our window. And is going to be teaching an enamelling workshop here at The Bead Shop in November! Read on to find out more about the amazing world of enamelling.
Magical Enamelling
Magical, mystical, unpredictable, absorbing, transforming, these are all words that come to mind when I think about enamelling and I'd love you to give it try!

Over 14 years ago I was first introduced to enamelling by my mum who was creating gorgeous pieces in her studio. Shortly after that I moved to Nottinghamshire and my parents packed me a kiln and a box of enamel powders. I then became mainly self-taught through embracing the freedom of the kiln. Its outcomes are not always being predictable. From then on I have explored enamelling through experimentation.

I've expanded on that first box of enamel powders, and now bring in many techniques to my pieces. One of my projects focussing on dogs has seen me sketching many breeds and then colourfully producing them in vivid enamel, with pattern and texture. In this project I've focussed on finding a profile image in my sketches that captures that breed.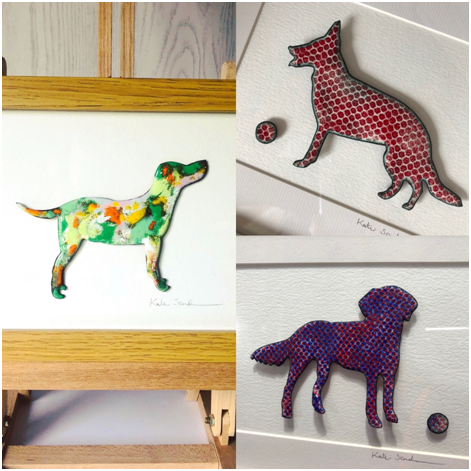 Inspiration
I find enamelling incredibly satisfying, every single time a piece goes in the kiln I know once it's out and cooling I will see a different result . I love how it can be at once incredibly unpredictable yet also an art form. With time and experience you can learn enamels patterns and tricks. How temperatures play a huge part, how depths of enamel change the outcome, how one method can interact with another. Sometimes I feel like an alchemist and other times I am totally at its mercy! Unable to predict what the kiln will bring me, but enjoying that anticipation.
My inspirations are broad, a lot come from the natural world. I often pick up leaves, stones or photograph flowers for their colours and textures. Other times inspiration comes from animals, taking photos of snakes for their patterned bodies. But I'm always on the lookout, anything that provides a new combination of colour and texture grabs my attention.
I had a flower bed outside my studio in the summer which exploded with colour influencing another project I've called "Confetti". In this work I've pushed the enamel from one effect to another in the space of one final firing. The end result is seen in much of my jewellery where there is an explosion of merging colours on the piece. I've brought this technique into my enamelling workshops encouraging students to wait that little bit longer to see the transformation for themselves.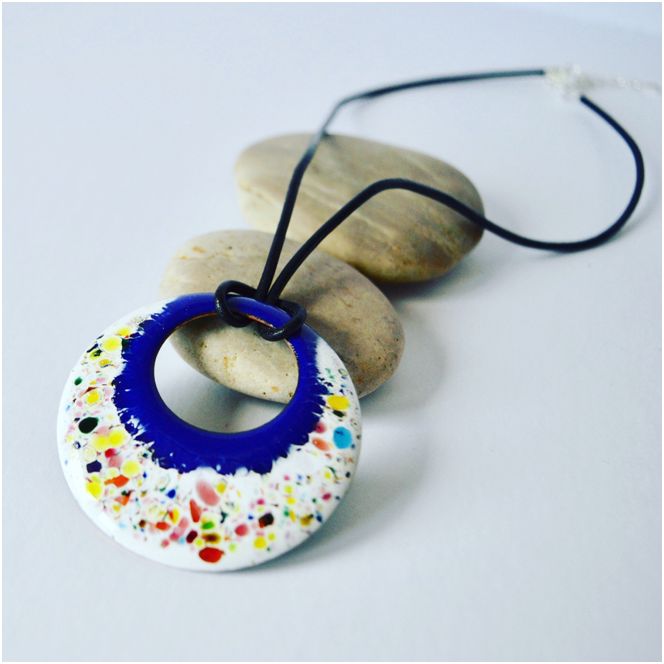 Display
How I present my work is calculated. I don't want to put enamel behind glass so I always mount it to the outside of the glass. It's delicate but I want people to be able to interact with it, see the light shine straight off it, touch and feel it.
I'm so excited to have my work in the window of The Bead Shop, Nottingham. I've been visiting this wonderful shop since moving up to Nottinghamshire and it's wonderful to have made this connection.
It's also given me a great excuse to play with beads in my work. Beads that are pure glass will melt down with the enamel and I've been experimenting! My bead selection for students is like a sweetie tin, I'm loving diving into it to see what can be added to my work.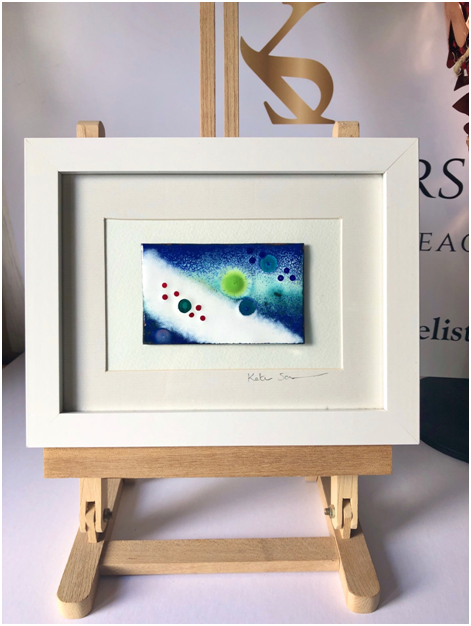 As well as adding beads into my work, I have also been enamelling beads. These are copper beads that I cover in enamel. It's a bit challenging working with something round! But I've loved the results and they have made some very unique necklaces.
Enamelling Workshops
One of the greatest pleasures that enamelling has brought me is the ability to teach. I love running my enamelling workshops either from my own studio or from venues like The Bead Shop. I find enamelling absorbing and exciting, you can see transformation happening before your very eyes. One of the things students find surprising is the short amount of time a piece is in the kiln for, just a matter of minutes. In that time the enamel powders and any decoration you might have added become molten fusing to the metal you are working on. Most of the time for me that is copper. You build up a piece with layers of enamel, so there may be many firings before it is finished. With every one a transformation occurs and that's the thrill.
I'm very excited to share that I will be teaching at The Bead Shop, on Saturday 14th November 2020. With just 4 student places available please contact me to book on.
Looking forward to sharing my love of enamelling with you!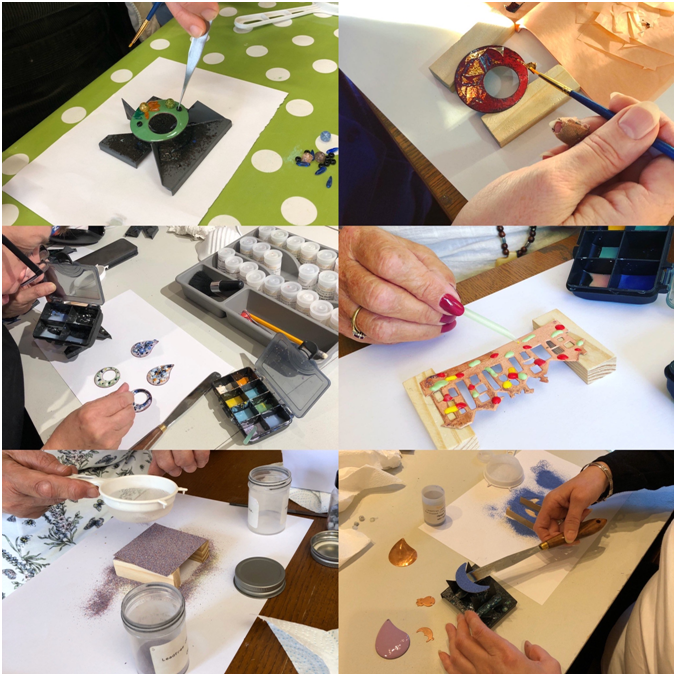 Email: hello@katiesanderson.co.uk
www.katiesanderson.co.uk Facebook/Instagram/Twitter: @katiesenamelist