Winged Heart Charm Antique Silver
1
£1.25

BS01395

10
£8.05

BS01396

Out of stock item quantity. Enter your email and we'll automatically notify you when this product quantity becomes available.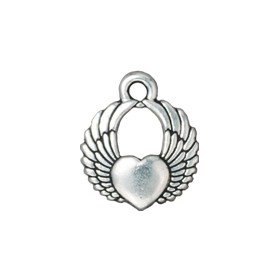 Please wait... Loading....
Please wait... Loading....
The Winged Heart is available in Antique Silver and Antique Gold, and would make a beautiful tattoo themed charm bracelet by mixing it up with some of our other charms. Try hanging it next to the Swallow charm and the Cherries to begin your own design! Made in lead-free pewter by Tierracast. Size: 17mm x 15mm x 4mm.