This beginners guide to findings will introduce you to the basic jewellery findings, perfect if you are just getting started in making jewellery. You'll get to know your bolt ring from your lever back in no time!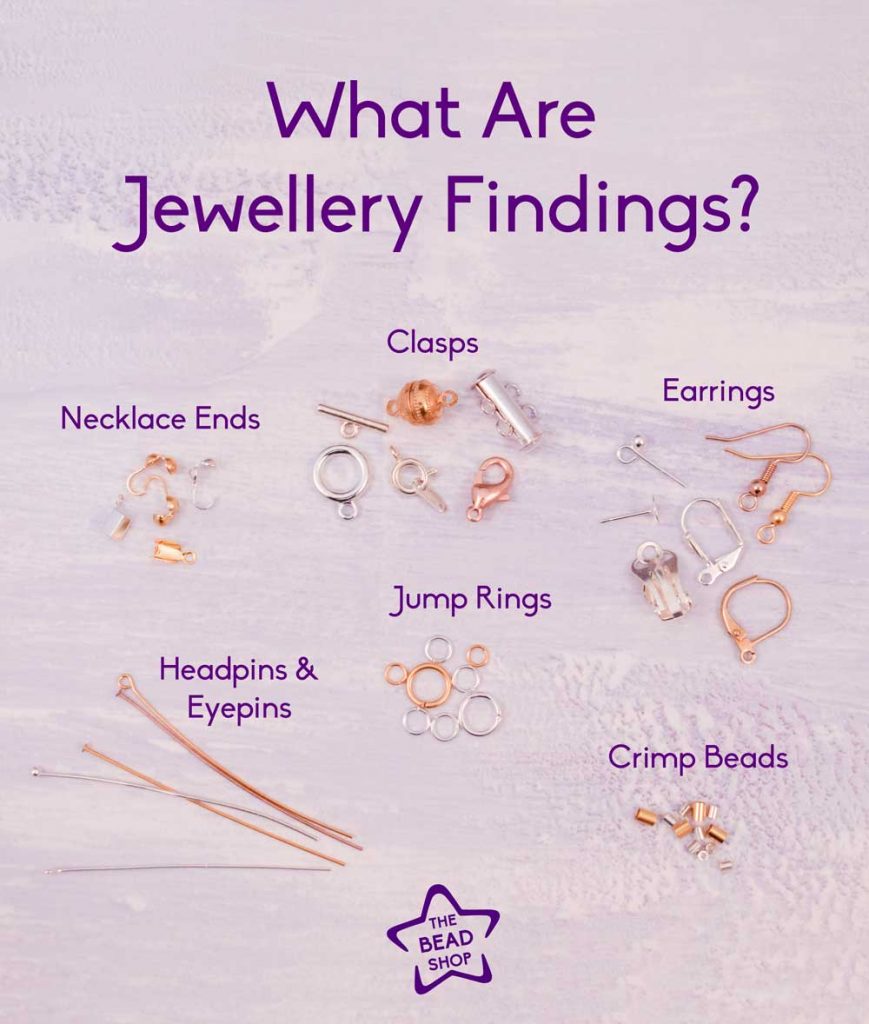 What are Findings?
I often describe findings to beginners as the nuts and bolts of jewellery making! They connect and join pieces together and complete jewellery to make it functional. There are lots of types of findings. We wanted this beginners guide to findings to give you an outline of the basics and get you started!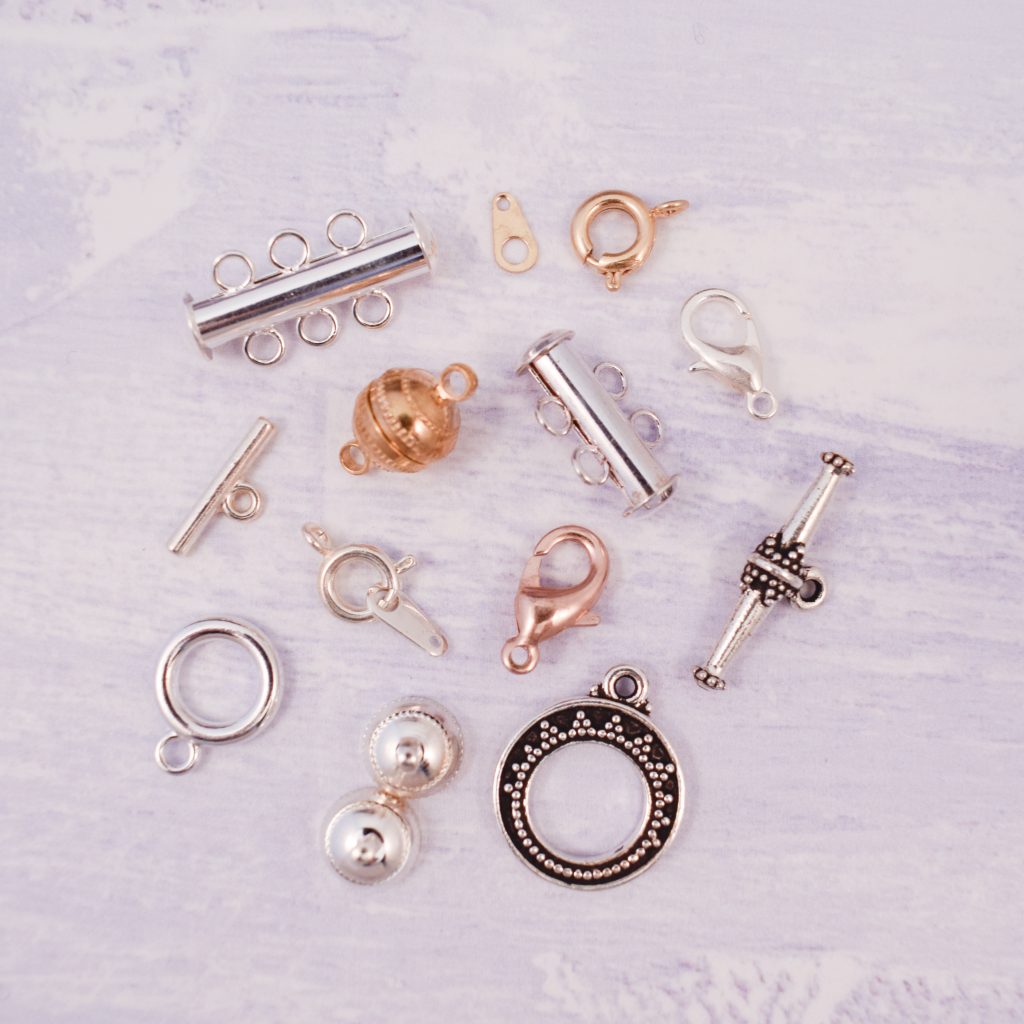 Clasps are the findings that close necklaces and bracelets. There are lots of different types, some work in different ways, but they all secure one end of your jewellery to the other. The most common varieties are trigger clasps, also known as lobster clasps. They have a hook that opens by pulling back a small trigger, hence the name. Bolt rings or spring rings are another popular choice and work in a similar way to triggers. Bolt rings tend to be smaller than trigger clasps and round in shape.

Toggle clasps work in very different way and are made up of two parts. There is a ring which you secure at one side of your jewellery and a bar at the other. The bar is then pushed through the loop sideways to close (similar to a button and button hole). Toggle clasps can be very simple in design or decorative.

There are many other types of clasps. Box clasps and pearl clasps are traditionally used on pearl necklaces. Magnetic clasps are perfect for if you find doing clasps difficult. Slide clasps are a clever way to finish multi-stranded beadwork.
Earrings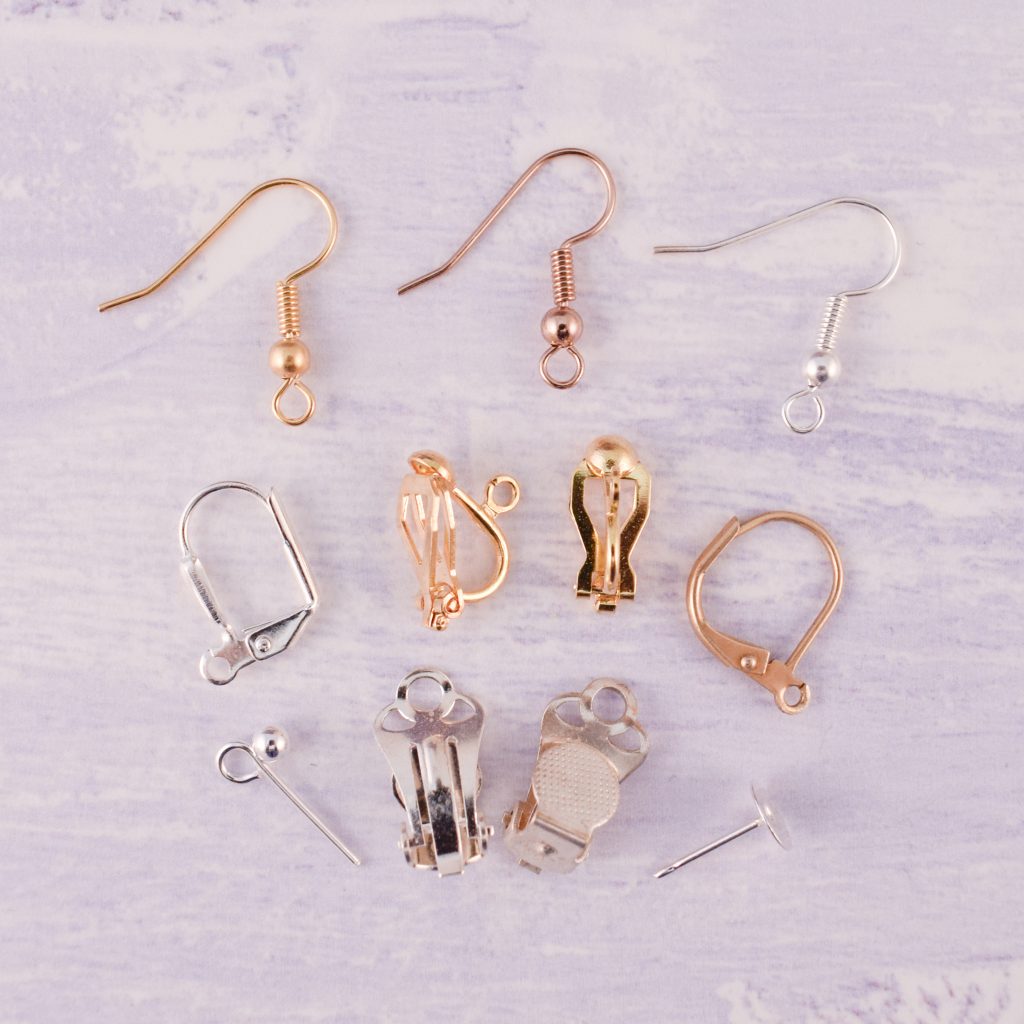 Earring findings can be for both pierced and non-pierced ears. The most common type are fishhooks (also know as ear wires or shepherd crooks). These are simple hooks for pierced ears, designed for creating dangly style earrings. Fishhooks have a loop at the bottom for you to attach your beading, charm or pendant. Lever back and kidney wires work in a similar fashion. You can also attach your designs to hoop earrings.
You may prefer to create stud earring designs. Studs come with either a loop or a flat pad for gluing on a flat back crystal or button.
For those without piercings, there are clip-on and screw on findings. Again, these can come with a loop or flat pad and can be worn with a plastic sleeve over the back for comfort.
Ends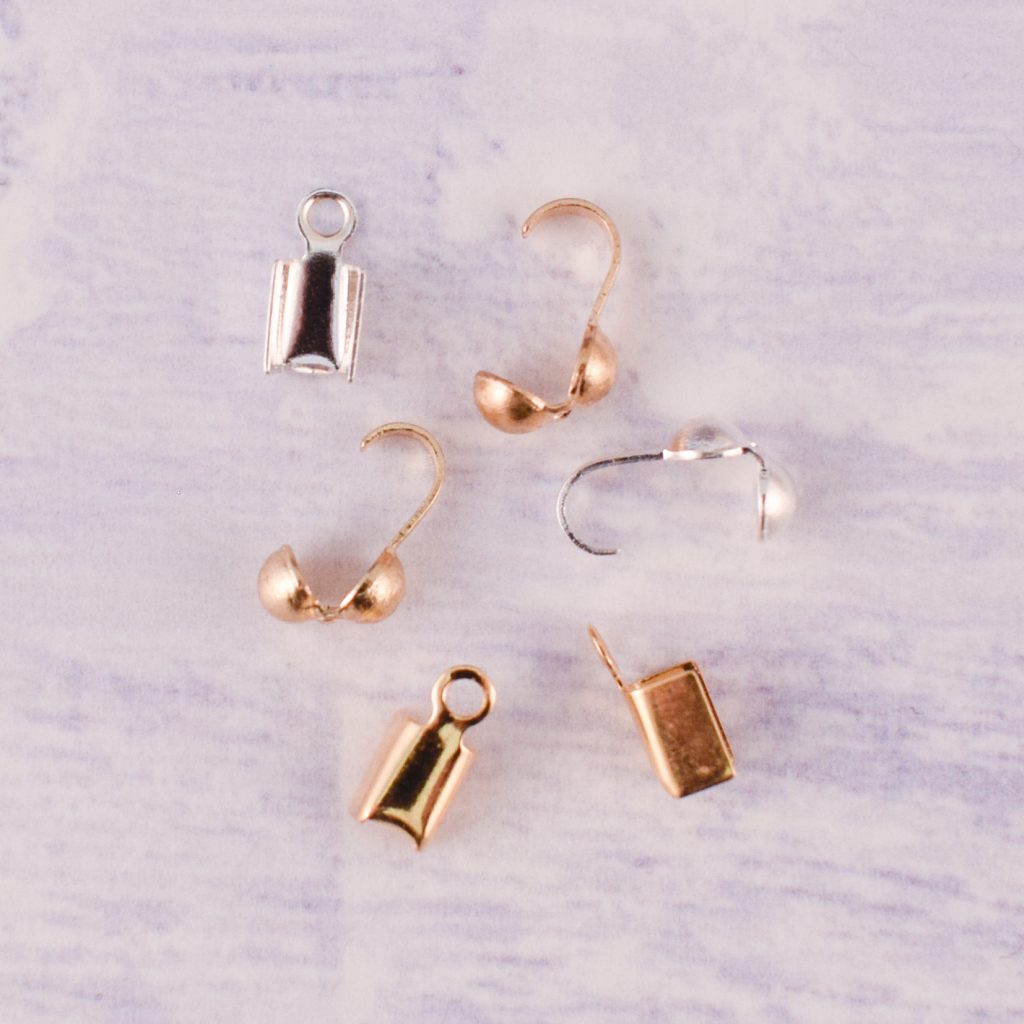 Ends are a way of finishing a strand of beading thread, beading wire or cord and allow a clasp to be attached.
Necklace ends (also called callottes) are used with beading wires and threads. They are made of two cups joined by a hinge and a hook on one side. There is a hole in the hinge that allows you to pass the tip of your beading thread through. You then secure the ends of your thread or wire by knotting or using a crimp (see below). The cups close over this and the hook is curved round to make a loop.
Fold over ends or envelope clasps are designed for thicker cotton cord and leather. They are a U shaped piece of metal with a loop at one end. You simply lay the cord into the channel and fold each side down over the cord with a pair of chain-nose pliers. Both of these have loops at the ends to allow a clasp to be attached.
Headpins and Eyepins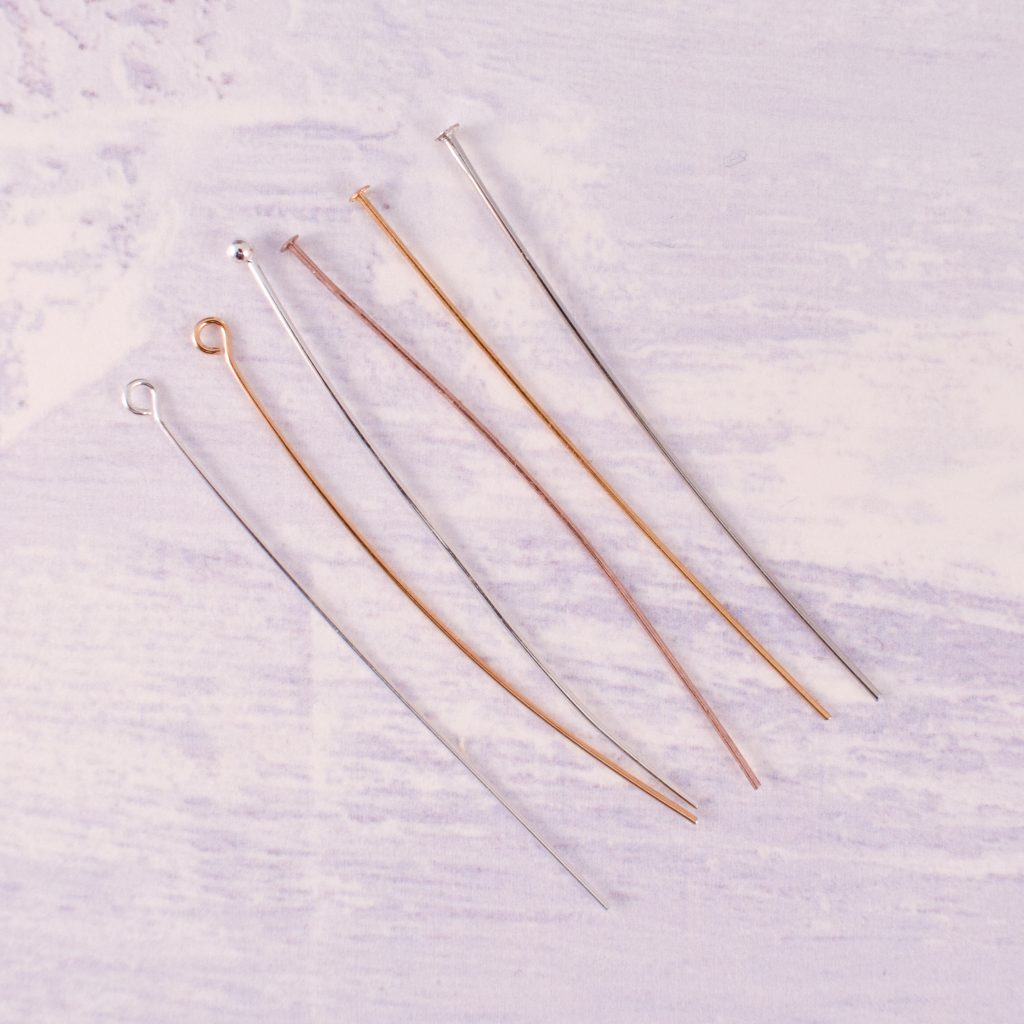 Headpins are short lengths of wire with a flat or ball head and allow beads to be threaded on and a loop created at the top. This can then be attached to the loop on fishhooks to make earrings, for example.
Eyepins are very similar, except they have a loop instead of a head. This means you can create beaded links, longer earrings or add a charm.
Jump Rings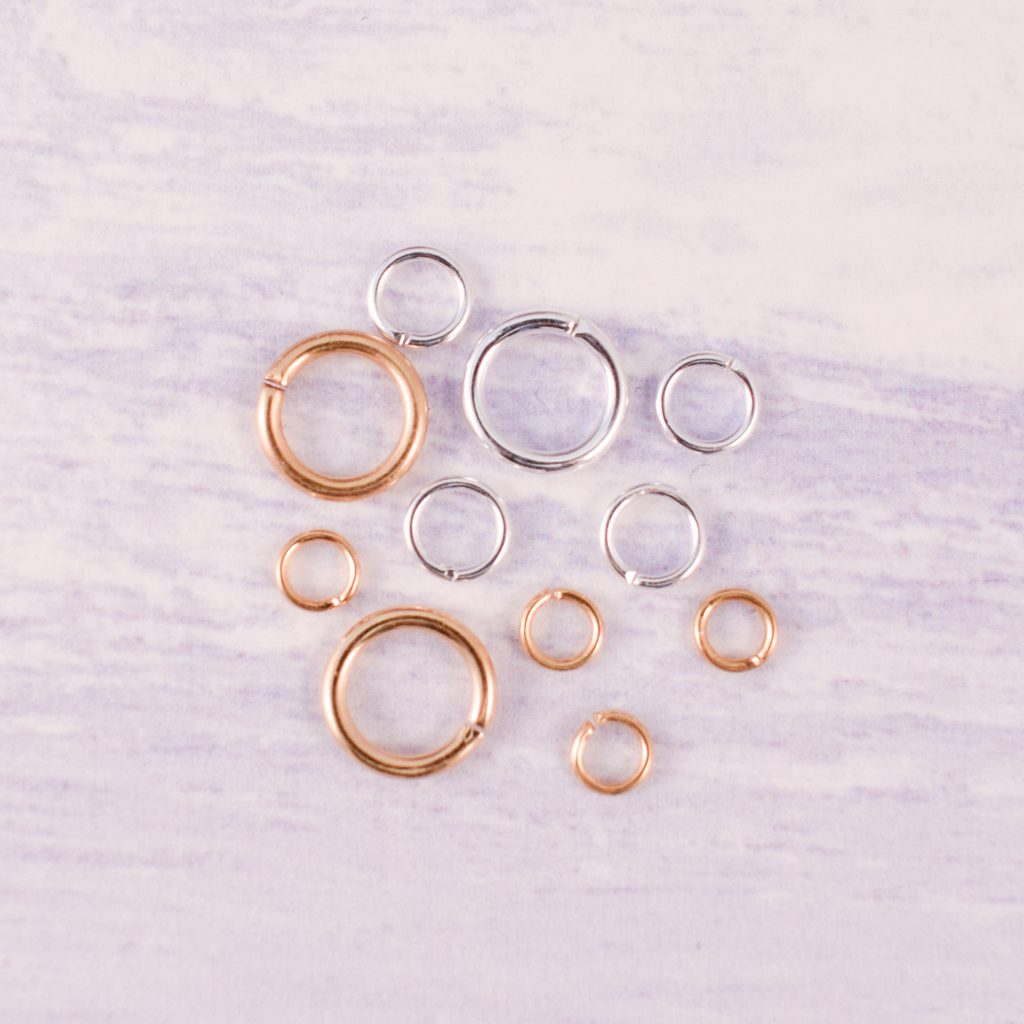 Jump rings are small circles of wire that you twist open and closed to join various parts of jewellery together. They are used to attach clasps to ends and chain, add charms or pendants and a whole host of other uses! They come in lots of different sizes so you can choose the perfect fit for your jewellery. To open a jump ring use at least one pair of pliers to twist the ring open (don't pull). Then thread on your ends, clasp, charms etc. Twist the ring again to close it. They can take a bit of practice to get a really neat finish, take a look at our video to get started!
Crimps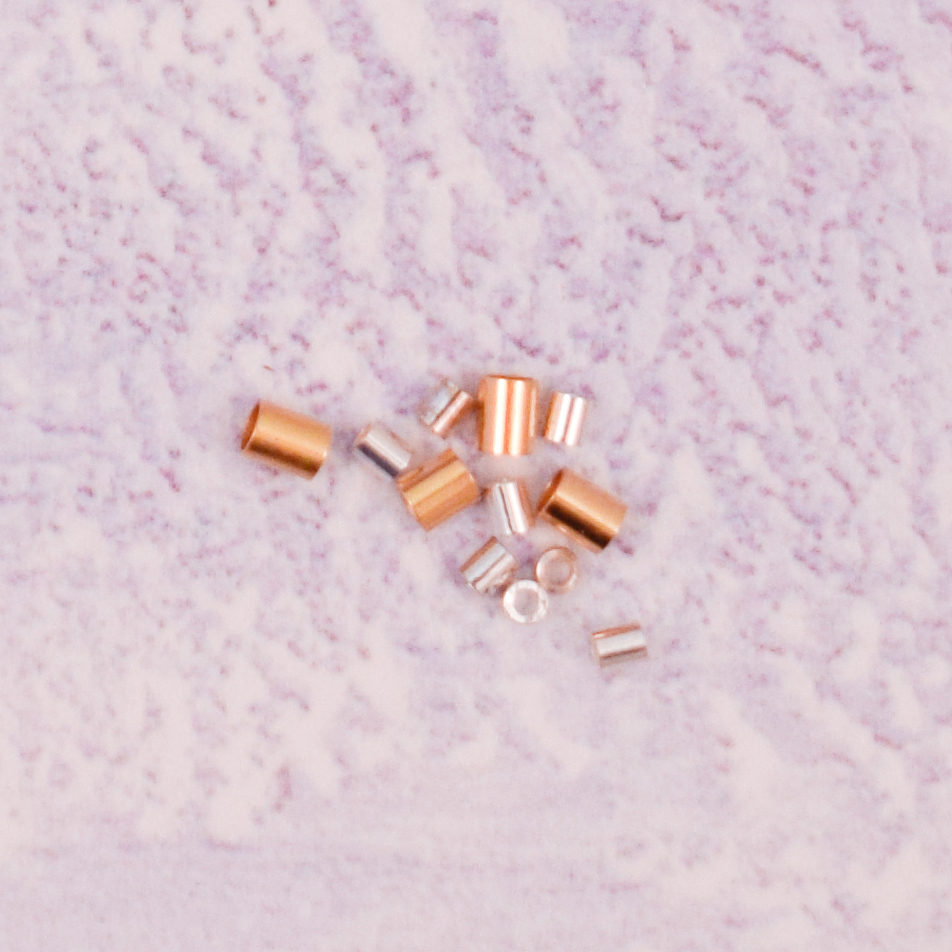 Crimps are small metal beads and tubes that can be squashed on beading wires that cannot be knotted or tied. You can create a loop of beading wire, secured by a crimp at the end of the necklace or bracelet, to allow a clasp to be added. They can also be used inside necklace ends.
Crimp beads are round metal beads, designed to be flattened with chain-nose pliers.
Crimp tubes are more cylindrical in shape and come in varying sizes. They can either be flattened or crimped with special crimping pliers for a neater finish.
Platings – what's the difference?
A beginners guide to findings wouldn't be complete without talking about plating. All findings can come in a variety of different platings and metals. Plating is when a thin layer of precious metal, usually gold, silver, rose gold or rhodium, is bonded onto a base metal such as brass or copper. The advantage of plated findings is that they are much cheaper than those made with solid precious metals, but still have the same colour and feel. It also means you have precious metal, rather than base metal, next to the skin.
All of our plated findings conform to the Nickel Directive/REACH regulation that controls the amount of nickel in items designed for prolonged contact with the skin. This means that all our findings should not cause any reactions due to nickel allergy. However, it is worth noting that people can be allergic to other metals, and not all skin reactions are caused by nickel.
What is gold vermeil, gold fill and rolled gold?
A much thicker layer of precious metal can be bonded onto a base metal to make a more durable and luxurious finish. This is usually done with gold, which is relatively expensive to produce as a solid. This is known as 'gold fill' or 'rolled gold'. Applying a thick layer of precious metal to a base can create a stronger item than solid precious metal.
You can also bond gold onto solid sterling silver, which is called gold vermeil. These are excellent options if you prefer solid metals, but want to reduce the cost.
Sterling silver
Silver as a pure metal is quite soft. To make it more durable for use in jewellery, it is alloyed with a small amount of copper to add strength. This is known as sterling silver. You'll find "925" stamped on sterling silver; (925/1000 parts silver and 75/1000 alloy). Sterling silver is a solid precious metal that gives a beautiful finish for special pieces. Silversmithing is the art of creating with solid silver and making jewellery is an ideal place to start.

We hope you have found this beginners guide to findings useful. Now you can confidently identify your bolt ring from your lever back. Look out for more detailed posts on each finding type coming soon! In the meantime, we have a selection of how to videos that you might find useful. You can also download our How 2 leaflet covering the basics here.