I'm sure we've all been feeling a bit down and frustrated recently as we've hit one year since the start of the first lockdown. It's been a long, tough year for us all. So we've been wracking our brains to think of some ideas to spread a bit of colour and joy. We're lucky enough to employ Eloise of As If By Magic Creations who is a talented illustrator so we commissioned her to design a bead colouring sheet.
We hope sharing this free colouring picture will help to give you some down time and take your mind off things. Colouring is great for mindfulness, relaxation and stress relief, so get your creative juices flowing! Or, why not give these to the kids and keep them entertained whilst your browsing our website for your next project 😉. Pre lockdown we always used to have colouring pictures for children in the basement level of our shop. This allowed parents to browse the beads whilst their little ones were entertained. This obviously hasn't been possible this past year which is a real shame. So we thought this would be the next best thing! We look forward to seeing some of your beautiful, colourful designs over the Easter holiday.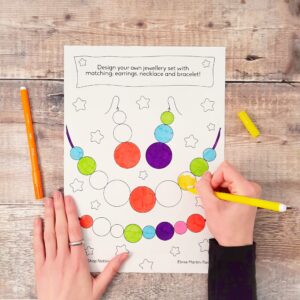 What to do
Download our colouring picture to design your own jewellery set at the bottom of this page. There are no rules or limits to what you can do. Raid your arts and craft stash and use whatever you fancy; pens, pencils, washi tape, collage, paint, glitter, beads, buttons, sequins and more! Why not try out a different design on each of the beads?
Competition
For the competition part we will have three age categories with one winner and a prize for each:
Up to 8 years old- A £20 Bead Shop gift voucher for the adult submitting the entry and an animal activity bead kit for the child
9-12 years- A £20 Bead Shop gift voucher for the adult submitting the entry and a shrink plastic jewellery making kit for the child
13 + (including adults)- A £25 Bead Shop gift voucher
You don't have to enter our competition, but if you'd like to we'd love to see your artwork!
How to Enter
You can enter using Facebook, Instagram, Twitter, or if you don't use social media, drop us an email! Be sure to include the age group you are entering for.
Facebook- post your photo to our Facebook page
Instagram and Twitter- use the hashtag #beadshopcolouring and make sure you tag @thebeadshopnottingham too
Email- send us a picture the entry with the entrants name.
When to Enter
You must submit your entry by the end of the Easter holiday, Sunday 18th April.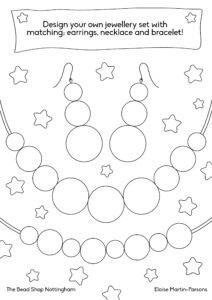 Have fun!