The rumours
You may well have heard the rumours in beading circles about Swarovski ending production of their crystals, Or watched Steph's video on our social media on the impact of this for beaders & jewellery designers. I spoke to Swarovski earlier this week to clarify the situation and wanted to share this with you.
A brief history of Swarovski Crystal

For those of you less familiar with the history of Swarovski they've been manufacturing cut crystal since 1895 from a base in Wattens, Austria. In 1892 Daniel Swarovski patented an electric cutting machine facilitating the production of crystal glass. He then located the Swarovski factory in Wattens to make use of local hydro-electricity as the grinding process was so energy intensive. He is thought to have wanted to create a product that was 'A diamond for everyone'.
The Bead Shop Nottingham and Swarovski

We first became a Swarovski Crystal distributer in 2002. Since then we have steadily increased our range of crystal beads, pendants & stones. We now sell over 1000 different lines in a huge variety of shapes, sizes, colours and finishes!
I can still remember the excitement of receiving our first Swarovski innovations launch pack, complete with a beautifully packaged box of samples. I've built up quite a collection of these & often get asked by friends how my bead museum is coming along!!

Over the last 18 years we've been invited to many amazing launch events. My favourite of which involved a trip on the London Eye followed by a cruise along the River Thames to showcase their new products. All whilst learning their latest application techniques & jewellery patterns.

In 2007 I received the most exciting phone call, Swarovski were inviting me out to Wattens all expenses paid! Although this was the trip of a lifetime I was pretty anxious about travelling on my own. I'd never stayed in a hotel on my own before let alone flown to another country solo. Fortunately the lovely Lynne from Stitch & Craft was making the trip too, and she took me under her wing.

Much of the trip is a blur – I wish I'd kept a diary and that phones had had cameras back then! I do remember arriving in Austria at night & not taking in the room I was staying in. The next morning I woke to a stunning view of the snow capped Alps! The hotel was incredible – https://www.parkhotel-hall.com/swarovski/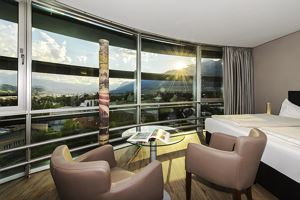 During the trip we visited Swarovski's headquarters & education centre. To view their new innovations and learn how to apply crystals to all sorts of materials. We learnt how to create mood boards with their designers. And went to the Kristallwelten Store in Innsbruck to view the History Of Crystal display. We were also treated to an amazing selection of Austrian food, alcohol and hospitality. Along with a visit to a traditional Christmas market to sample Glühwein. It really was an experience of a lifetime.

The final Swarovski event was in London last year. It was still a fantastic event but was definitely toned down on previous years. I did have a phone with a decent camera this time so here are some photos from it!

Why they're stopping manufacture

Well from what I've been told it's to refocus the business on high end luxury products. I still don't understand the logic behind cutting off a popular arm of their business. Especially as they will continue to manufacture some of the range but only for use in their own jewellery. The cheaper copies of their crystals will have hurt them over the last decade or so and Covid-19 is hitting businesses hard. There's more info here; https://www.bloomberg.com/news/articles/2020-08-21/cracks-in-the-crystal-kingdom https://www.bloomberg.com/news/articles/2020-10-30/swarovski-shareholders-approve-job-cuts-upmarket-brand-strategy

How this will effect us & you

We are able to continue ordering from Swarovski until the end of June 2021. They have said that the majority of the range will be available until March & we should know by December which items they are discontinuing. We will continue to stock the items that are exclusive to Swarovski for as long as we can. We're also able to continue to order in samples & one off items so do let us know if you'd like us to place a special order for you. Post June we will be selling our remaining stock until it runs out. I'd strongly recommend ordering the beads etc. you know you're going to need as soon as you can to avoid disappointment.

What we're replacing this with & why

The two main alternatives to Swarovski for beaders are Chinese crystal or Czech Crystal. For us one of the most important factors when we source new suppliers is their ethical & environmental policy. Fortunately we have a long trading history with Preciosa Ornela having stocked their seed beads and fire polish beads for the last 16 years. Robin and I were also lucky enough to go out to the Czech Republic to visit their head office and their fire polished glass factory in 2004. So we have decided to move over to their sister company Preciosa Crystal Components for our replacement crystals. They have a stunning range some of which can be seen here; https://www.preciosacomponents.com/products

Could this actually be a good thing?

I think things are still a bit raw for me to be 100% objective on this especially after finding out during the second Covid-19 lockdown. I am very sad to be losing the history of Swarovski beads and feel terrible for all the employees they are making redundant. I'm also a bit apprehensive of re-arranging our shop & wholesale department to accommodate the changes. It also means we'll have to re-design a lot of our kits & patterns although this will also allow us to update & improve our older designs.

However Preciosa Crystal is a far more affordable price making it accessible to a wider range of beaders & jewellery designers. Their quality is great and I'm excited to see their range of exclusive colours and shapes. Which I know will inspire a host of new kits, projects and workshops. I am also very grateful for all the amazing experiences and memories I have courtesy of Swarovski.

Hana –x-