I love snowflakes, they're a natural phenomenon, each one unique and sparkly and their shape lends themselves so well to loads recreating it lots of different crafts. You can see our Swarovski snowflake kits here. One simple and effective way to create a reusable snowflake decorations is to use a snowflake wire form.Produced by Beadsmith, we stock 3 different sizes, small, medium and large. I've used the medium snowflake form which measure approximately 15.5cm (6'') to create my frosty decoration.
I planned out the number of beads needed for each spoke to almost fill them, leaving enough space for a fishhook guard at the end. By using a fishhook guard, as opposed to creating a loop or gluing a bead at the end, I show you how to make a reusable Snowflake decoration . So next year when you get your decorations out you can swap colours and create different designs.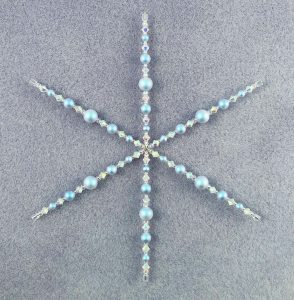 Here's are the beads I used and the order I threaded them on (explained in the video below).

You'll need the following amounts of materials to make a reusable Snowflake decoration (links to the products can be found below the video);
1 x medium snowflake wire form
60 x size 11 Crystal AB seed beads (Approx 0.5g)
24 x size 8 Crystal AB seed beads (Approx 0.9g)
6 x 8mm Iridescent light blue Swarovski pearls
12 x 6mm Iridescent light blue Swarovski pearls
12 x 4mm Iridescent light blue Swarovski pearls
36 x 4mm Crystal AB2x Swarovski Xilion beads
6 x clear fishhook guards
1 x medium snowflake wire form

Obviously if you prefer you can use a variety of different colours and bead combinations. Do share your completed snowflakes with us using #TheBeadShopNottingham we love to to see your creations.

Thanks for reading.
Steph