We currently have 2 part time vacancies to join our team as a sales assistant.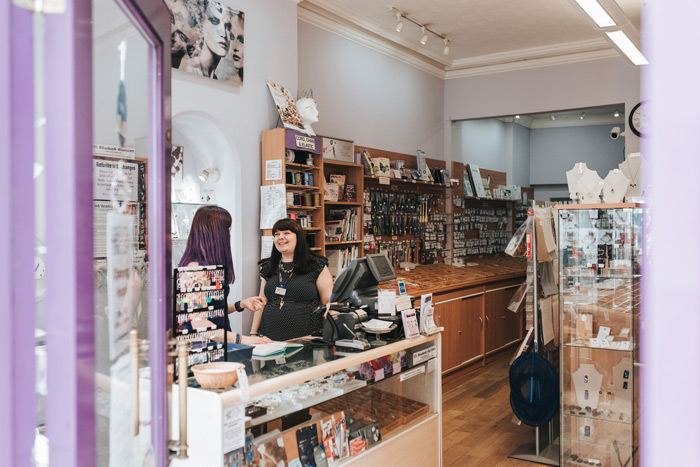 Sales Assistant 
We are looking for 2 enthusiastic creative individuals to join our friendly and knowledgeable team as a sales assistant. No two days are ever the same and even after working her for several years they'll always be new skills and techniques to learn.
Requirements
As theres a fair amount of maths involved you must have at least a C in GCSE Maths (or equivalent) please do not apply if you do not have the relevant qualifications.
Ideally will have previous customer service/retail experience.
Must be enthusiastic, friendly, hard working and willing to learn.
Must be interested in creative crafts.
Job Role
Sales Assistant – working within our busy city centre shop, wholesale and mail order departments to serve and advise customers. Helping out in our mail order department to pick, pack and despatch orders.
Customer service – answer enquiries via phone and email. Taking orders over the phone.
Carry out general day to day tasks including cleaning, tiding, sorting, packaging and stocking products, inventory control, cash handling as well as window displays, social media and jewellery making.
Person Specification
We need someone who is confident communicating with customers and colleagues. A great level of patience and eagerness to learn is required in this role. A keen interest in jewellery making and crafts is really useful though we will provide training.
We require someone who is happy to be flexible and help out when needed.
We need someone who is happy to be on their feet for most of the day.
Salary & hours
The position is for approximately 20 hours per week including some Saturdays.
Salary is variable depending on experience and number of hours worked.
We are unable to accept any CV's without an application form to accompany it. Please send any specific questions, that aren't answer here, about the role to info@mailorder-beads.co.uk
Please complete an application form to send with a covering letter to us by post, email or bring in person to our shop.
Closing date for sales assistant position is Thursday 12th March 2020.
Click here to download our Application Form