Hi it's Steph here. It's not often that I get to attend a workshop here at The Bead Shop – as I'm more often than not, teaching them. So it was lovely to be able to join Lesley Belton on her virtual Mini French Beaded Gerbera class that we hosted back in July.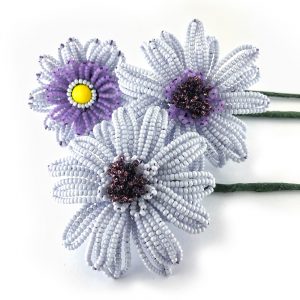 I have made some French beaded flowers before. I have even taught some very basic flowers on a small scale for brooches. Though not quite using the same technique. What I really like about Lesley's flowers is her attention to detail and how she manages to create a realistic flower, down to shape and size. Her beaded snowdrops workshop using Victorian beading techniques went down really well earlier this year.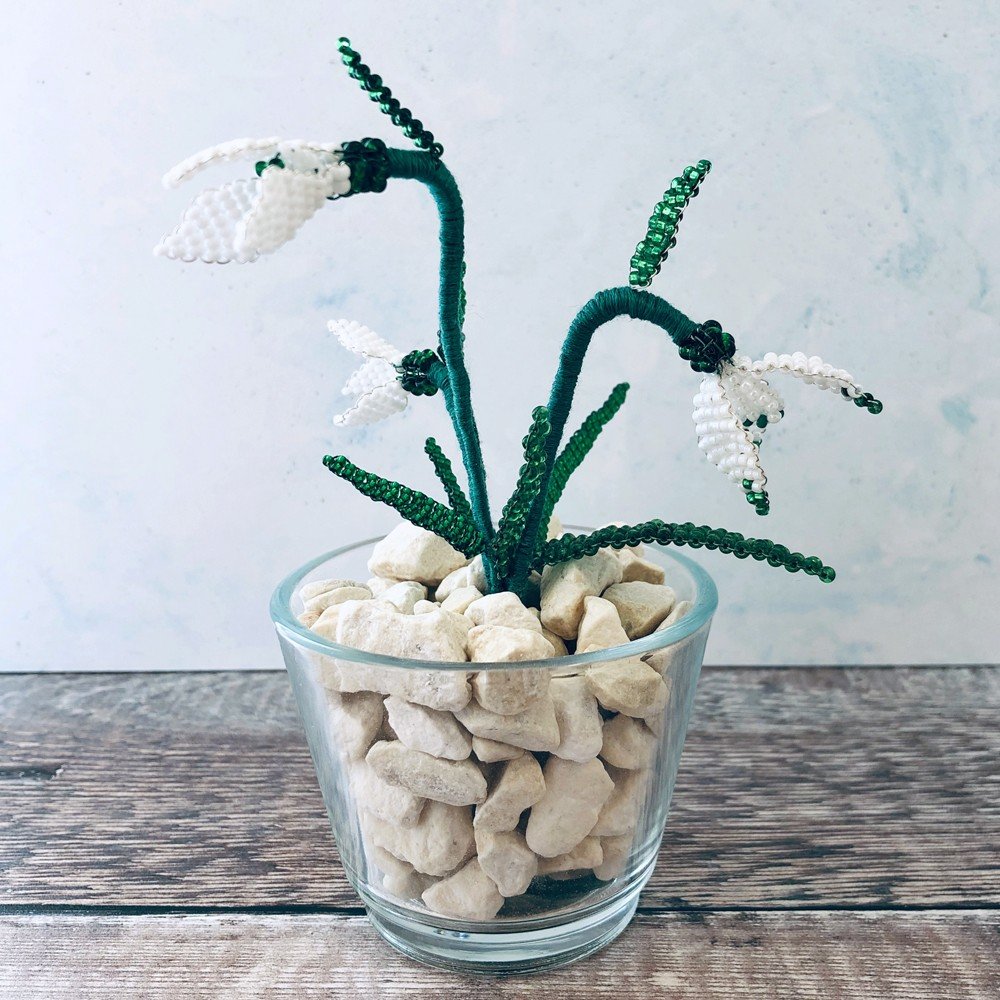 The process of watching on screen and being able to chat and interact with Lesley and the other participants during the workshop was really enjoyable. It was great to see everyone else's flowers take shape. It was very interesting for me, experiencing the workshop as a participant instead of the teacher and lovely to be able to join from home, in my little craft room.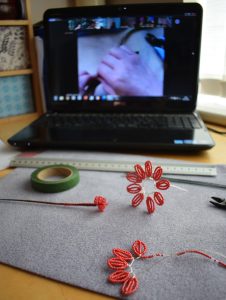 Red it's one of my favourite accent colours (both to wear and in my lounge). So I already knew what colour to choose and fortunately I already had enough red beads in my stash (slowly using the beads I inherited from my Grandma).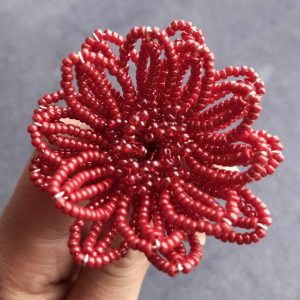 Building the flower in stages is quite satisfying. My larger petals ended up a little further apart than I'd hoped, (something that definitely comes with experience and practice) but when all the different layers came together it completely transformed the beading. Its great to pause and see whether you want to add more layers to your flower.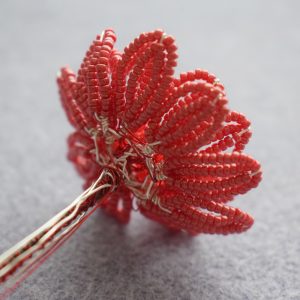 My Gerbera turned out great from the front. However I felt like there was a lot of exposed wire on the back as I'd left slightly too much space between petals. I decided to add some leaves to disguise the wire. Taking a leaf out of Lesley's book (pun intended) I thought I'd have a look at what Gerbera daisy leaves actually look like and see if I could replicate them. It would appear they're rather large and quite shapely, so I quickly decided to just make some simple small leaves instead.
I made my leaves using Victorian beaded technique and joined my leaves in a circle to make it easy to attach to my daisy. I then secured them in place with the excess wire around the main stem, then tidied the whole stem and wire with floristry tape.
The finished Gerbera is really effective and I love it! I've already been thinking about other Gerbera colours I could make…


If you're reading this and thinking, I wish could have joined the workshop, do not fear! We had a great response from this class so we're now trying something new, given the current challenges hosting real life workshops. We've turned Lesley's' workshop into a kit, with an accompanying video. This is a great way to learn a new skill. You'll be sent all the materials and instructions with a QR code/link to take you to the exclusive video tutorial too. This also allows you to go at your own pace, pausing and rewatching as much as you need.
You can find the workshop kit here. Once you've made your first you can then get carried away with ALL the different colours.

Thanks for reading.
Steph