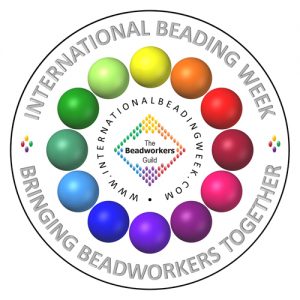 We are currently half way through International Beading week. This is a great initiative from the Beadworkers guild to help encourage people to take up beading. Which always makes me think about the advice we give to new beaders who visit us in our shop or at bead shows. 
Kits provide a great way of getting started. They will provide you with a manageable project with all the materials and instructions included. This eliminates any worry about getting the right beads and thread when everything is new to you. 
There's also a huge amount of resources and information out there. Including blogs, free YouTube tutorials, downloadable projects and your local Bead Shop. We have a whole section of our website dedicated to those new to jewellery making and beading, available here: https://www.mailorder-beads.co.uk/how-to-start-beading/

The Beadworkers guild have a lot of free templates aimed at a range of levels and all helping to promote beading. During International beading week they work with lots of designers from across the world who often provide free or discounted projects to tempt you try their patterns. It's a great time to try something new. 
I have created an ideal beginners project which I've shared on YouTube. It is perfect for a complete novice. Sometimes when faced with fancy two hole beads they can look a little daunting. So I have designed a bracelet to use them in a very simple and effective way. I also talk you through how to work out the length you need to make your bracelet. 

If you are wanting to get in to bead weaving specifically and you're not sure where to start I would recommend trying a range of different stitches. Either just playing with seed beads to get the hang of it, or a simple project. I personally would always go for a simple project when learning a new stitch. It gives you a greater sense of accomplishment and is likely to provide you with more details, like the size of beads, recommended thread and best needle to use. All things that until you start beading regularly you'll not know. 
Here's are some suggested basic projects using different stitches, perfect for beginners.  Brick stitch Diamond Earrings, Brick stitch hoop earrings, Right angle weave tassel jewellery, mini festive stars.

There are a few other pieces of advice I'd like to share: having taught beading weaving for many years to a variety of different levels and ages, there are a few things that are relevant to everyone!

You'll see 'tension' talked about a lot, this something that may take a little while to get used to. It refers to how tightly you pull your thread when beading. Usually projects are aiming for a snug but not taut tension, so that there's no gaps between beads with exposed thread. Some projects will require a different tension and they should state that. Like my Gemduo bracelet, this requires a relaxed tension (another reason it's good for beginners) rather than pulling your thread really tight. 

Holding on to your bead work. You'll develop your own way of holding your work. There's no right and wrong way, there's just what suits you – try different things to find out what that is. I hold my beading with my left hand and pick up beads with my right hand. I move my beading around in my hand a lot. Others and particularly those new to beading may choose to keep their work flat on a bead mat and move their mat around to help make it easier to see their work. 

Don't be disheartened if things don't work first time. Like anything you're trying for the first time it can take practice. As you bead more and try new things your skills and confidence will build. And of course if you have any problems please do get in touch, Steph.