With plans disrupted this half term and many of us spending yet more time at home, we have gathered together some kids craft ideas for the school holidays!
With Halloween parties and trick or treating off the cards, it doesn't mean you can't make some spooky Halloween decorations. This pre-printed Halloween Shrink Plastic sheet comes ready to colour in , you then just cut out, pop in your oven and watch them shrink down. They can be turn into a garland, table decorations, keyring or jewellery!
Halloween pre-printed Shrink Plastic Sheet
Pack size: 1
Regular Price

£

5.25 incl.VAT
We also have our new Halloween Treat Box, with lots of beads (including some that glow in the dark!) There's enough cord and elastic to turn them into lots of pieces of jewellery. There's even a bonus hot chocolate sachet!
Halloween Treat Box
Alex has created the perfect Halloween Treat Box for a cosy autumn night. The box contains a hot chocolate sachet which is a nice "cuddle in a cup" as well as a colourful collection of 220 beads.  Included are glow in the dark pumpkins, Regular Price £7.00 incl.VAT
But if full on halloween isn't your thing, then try our our beaded gecko video on YouTube. It uses plastic pony beads and cord to make a beaded lizard friend.
For older kids, our paracord knotting keyring kits are always a popular choice. They come in a wide range of colours and include beads to decorate the ends and make perfect bag pulls as well as keyrings.
Paracord Snake Knot Keyring Kit Purple and Turquoise
This Paracord Snake Knot Keyring Kit Purple and Turquoise is perfect for both children and adults alike. It contains 2 lengths of Paracord, in different colours, a split keyring finding and 4 beads of varying shapes. There are thorough instructions explaining how to make the snake knot keyring, with two options for finishing it off. One way is child-friendly – simply thread on beads and knot th…
Regular Price

£

3.00 incl.VAT
If none of the kits or projects seem to fit, a bag of mixed beads and some elastic can make a whole range of necklaces, bracelets and even rings and keyrings. For younger children we would recommend our plastic beads and some fabric elastic . And for older kids, our Czech glass mixes and Stretch Magic elastic!
Plastic Bead Pony Mix
Pack size: 200
Regular Price

£

2.50 incl.VAT
There are lots of crafty projects from around the web, here are some of our favourites.
This origami bat bookmark from Red Ted Art is the right mix of spooky and cute!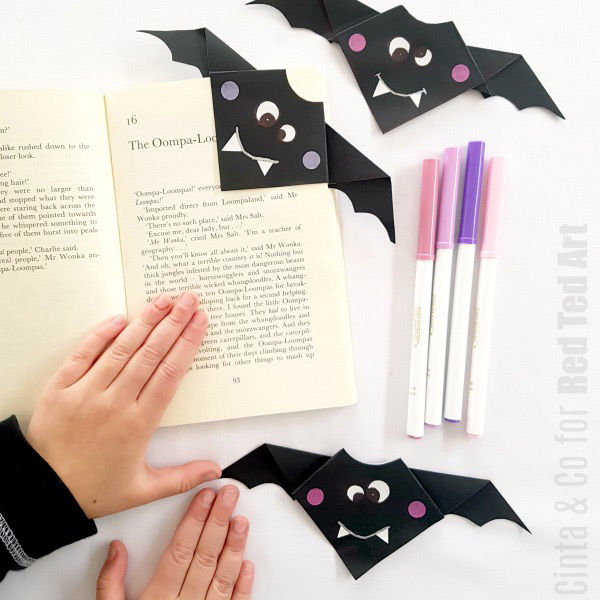 If you are going full on with the Halloween decorations, these balloon DIYs will definitely do the trick (or treat!)
And if you having to whip up a halloween costume for a Zoom party, how about these beaded cat ears? For an easier, kid-friendly version, use pipe cleaners and larger hole plastic beads.
We also have some free Halloween projects for you to download, including a shrink plastic skeleton, polymer clay spider beads and Halloween charm earrings with some added Swarovski sparkle.
Let us know what beady and crafty activities you get up to this half term!